Research Lab
Located in the Alaskan wilderness, this design explores building in a dense forest landscape while minimizing environmental impact. The program is lifted into the tree canopy on pilotis and incorporates folding panel walls and green roofs.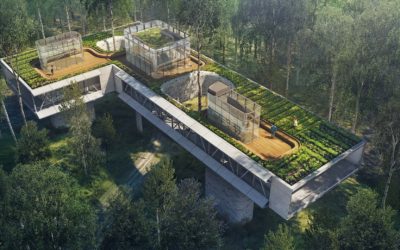 One of the new images I generated for my upcoming Portfolio Volume 05 was an aerial view of the Research Lab Project. Because I have many new images...
See All Visualization Projects
Portfolio Volume 05
$35.00 Softcover
Volume 05 is my most recent portfolio and represents nearly three years of experimentation and exploration into what it means to visualize architecture. Four architectural projects are used as a base through which a series of illustrations are organized to tell the story of each design. Rich colors, diverse textures, strong compositional layouts, and contemporary typefaces are all brought together to form a unique modern architectural portfolio.